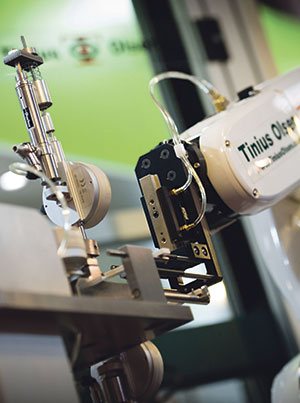 Tinius Olsen is the leading specialist manufacturer and supplier of static tension and compression materials testing machines.
Tinius Olsen was established in 1880 by Norwegian born engineer Tinius Olsen. Tinius was a tailored craftsman and founded the Tinius Olsen Material Testing Machine Company, priding himself on crafting each machine with delicate care, a trait the company has carried through to today.
The company manufactures their machines for use in research and quality control departments in order to measure a material's strength and product performance. With Tinius Olsen, clients have the peace of mind that they can perform tests on raw materials and finished products to international standards. This includes ASTM, ISO and EN.
In a recent interview with Tinius Olsen's Sales Director, Martin Wheeler, Martin stated that Tinius Olsen had attended NPE in Orlando, to overwhelming success. NPE is the world's largest trade show and conference for the plastic industry. Tinius Olsen's exhibition of their automated systems, tension and compression machines wowed industry peers, as well as the company's commitment to high quality machinery.
If you would like any more information on Tinius Olsen, or have any enquiries, please visit the Tinius Olsen website. Alternatively, you can contact the company via the telephone number listed below.
T +44 (0)1737 765001
www.tiniusolsen.com