Superglass is one of the leading suppliers of innovative and reliable insulation services, providing industry leading thermal, acoustic and fire insulation.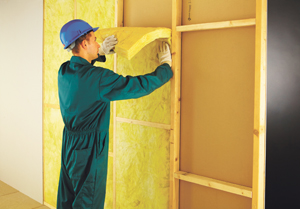 The company was first established back in 1987 in Stirling, Scotland, which still remains its primary manufacturing site, a site which has been manufacturing mineral wool since the early 1950s. The company has since grown from strength to strength, and as one of the strongest innovators in the insulation market, they created the world's first Multi-Roll in the 1990s. The Multi-Roll is made of perforated mineral wool product, with the perforations enabling the installer to choose an appropriate width for a bespoke installation. Superglass also developed blown solutions for use in retro fit cavity walls for government sponsored energy efficiency schemes. By 2005, they were already the UK's biggest independent manufacturer of glass mineral wool insulation.
Today, Superglass is one of the most well-known manufacturers of market glass wool insulation. They product this from 84% recycled glass, a feat which reduces waste disposal and saves on valuable resources. Superglass products can be used in everything from walls to roofs to floors and caravans or park homes. In addition, their products are highly cost-effective given the affordable prices and significant energy savings. Better yet, they are simple and easy to install.
The glass mineral wool is made through a highly complex and delicate process, whereby recycled glass bottles are heated to extremely high temperatures. The glass is then spun, with silicon added to it to form a flexible fibrous mat that can be turned into the final end products. The glass mineral wool also restricts noise transfer, improving the acoustic performance of the walls. Regarding fire protection, Superglass' products are all non-combustible, with glass mineral wool even providing effective in-built fire protection.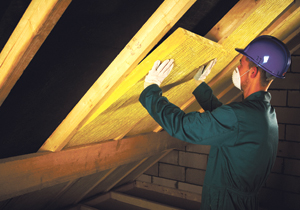 When it comes to thermal insulation, Superglass can be relied on for high quality and durability. Being thermal, the insulation minimises heat transfer from in and out the building, ensuring it stays cool in the summer and warm in the winter, and therefore lowering energy consumption, reducing costs, and mitigating the environmental impact. Thanks to its environmental sustainability and the fact that the glass mineral wool is made of recycled glass, Superglass products have been given a Generic BRE Green Guide rating of A+.
Given that heat rises, roofs are the biggest source of heat loss, leading to wasted energy and money. Insulation in roofs is incredibly as a way to significantly reduce energy and cost wastage. Superglass offer loft insulation rolls or blown wool to improve thermal efficiency. The Superglass Handy Pack 44 is extremely lightweight and easy to install. The material can be easily cut if need be, and the perforation means there is less cutting needed which reduces waste and saves on time for both the installer and the client. For metal clad roofs, insulation is cleverly sandwiched between the metal profiles to create a strong and sturdy barrier that reduces heat loss and noise transference.
For those seeking insulation for their park homes or caravans, Superglass offers bespoke glass mineral wool insulation that can be tailor made to the client's specifications.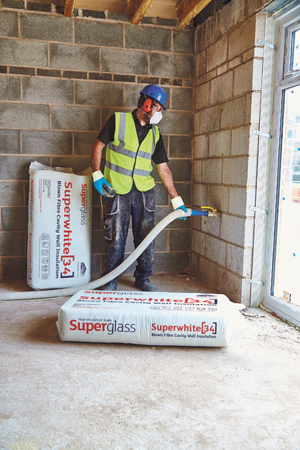 Superglass has earned an enviable position in the insulation sector as one of the leading providers and first choice for first rate products, customer service and support. Their free and highly responsive specification service is another of their notable facilities, which works to provide accurate and detailed U-Value calculations and Dew Point analysis.
Superglass' was recently acquired by TecnoNICOL, now their parent company, a widely recognised and international producer of roofing, waterproofing and numerous insulating materials. By joining under TecnoNICOL, Superglass now has the capability to expand beyond insulation and move into other specialisms, such as bitumen membranes, mineral wool insulation, synthetic membranes and roofing shingles.
Superglass continually invest in their people and technology to ensure ever evolving and up-to-date practices. Looking ahead, Superglass intends to expand their capacity at the Stirling production site in the coming years. Not only that, but they have big plans to create a Southern UK warehousing hub, giving them yet more access to the insulation market and offering distributors, merchants and builders more choice when it comes to insulation and waterproofing.
Superglass often attend trade shows and expos around the country where they display their best and latest developments and can be found at many more throughout the year, including RCI Show, Scotland Build and the Homes Show this November. If you would like to get in touch with Superglass regarding insulation or anything else, please see the contact details below.
T 0844 381 4022
www.superglass.co.uk