OVVO®, creator of the innovative, award-winning, INVISIBLE connection system, is excited to announce the launch of another NEW product in the "V" range, in direct response to industry requirements.
The new connector – the V-1230 – incorporates all features of the Interzum 2017 "Best of the Best"-award winning V-0930 in a format that is ideally suited to high grade chipboard of 15, 16 and 18mm thickness, and is also available in both permanent and releasable versions. The V-1230 will be launched at FIMMA, Valencia on 6th February, and will be available to order from www.ovvotech.com from that date.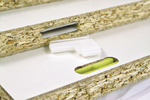 The new V-1230 connector has a deeper profile than the award-winning V-0930 connector, and significantly increases the holding strength delivered in chipboard materials, in which OVVO® can be used to deliver an invisible connection. It works best in high-grade chipboard with thickness of 15mm, 16mm & 18mm and above, and is also compatible with leading high-end materials, such as high pressure laminates, composite material and solid woods.
The team at OVVO® has worked tirelessly with industry partners to ensure the new connector is compatible with benchmark industry equipment – specifically with leading CNC equipment suppliers and software vendors to ensure ease of adoption leading to fully integrated manufacturing processes.
The NEW OVVO® V-1230 connection system is available from February 6th. Orders are being taken for guaranteed delivery in February. Be inspired to connect – call us on +353(42) 9370070, or e-mail us at sales@ovvotech.com for further information.