Tan Delta is the global leader in oil condition monitoring technologies.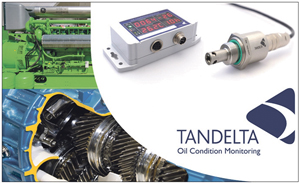 Unique full spectrum holistic oil monitoring allows owners/operators to improve the performance of their equipment, and increase operational reliability and safety.
Tan Delta have developed application specific kits which are quickly and easily fitted to industrial engines, hydraulics and gearboxes enabling oil to be monitored and tracked continuously in real time.
Significantly reduces maintenance costs
Increases equipment efficiency
Extends equipment life
With an average investment return of under four months followed by subsequent years of financial and operational benefits, contact Tan Delta today to find out more.

C: Chris Greenwood (Managing Director)
T: +44 (0)845 094 8710
E: info@tandeltasystems.com
W: www.tandeltasystems.com